The original building of Seventh Street Medical Supply in South Philadelphia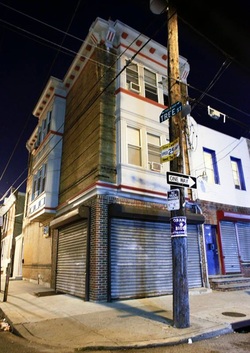 People always ask, "where did you get the name Seventh Street Medical Supply?" We were originally located in South Philadelphia between 7th & Tree Street. Our good friend Joe Kaczmarek just sent us a picture from the past. Here is a pic of the original property of Seventh Street Medical Supply. Thanks Joe!
At Seventh Street Medical Supply, we are dedicated to making it easy and affordable for patients to receive their medical supplies.
Seventh Street Medical Supply is committed to providing reliable home delivery of quality products and superior customer care to patients. Our goal is to be a single source convenience for all of our patients' medical supply needs. We have established a solid reputation among patients, healthcare professionals and industry leading manufacturers since 1983. We offer brand name products that are leaders in the industry, such as Invacare, Drive, Precision, AirSep, ResMed, Respironics, Fisher & Paykel, FLA, Don Joy, Breg, Golden and MedLine.
Recognized as one of the most-recommended providers in the Bucks County and Philadelphia area, Seventh Street Medical Supply offers a broad variety of services and the convenient home delivery of:
· Respiratory Equipment
· Portable Oxygen Systems
· Cpap, BiLevel & VPap
· Nebulizers
· Diabetic Testing Supplies
· Orthopedic Supplies
· Full Line of Durable Medical Equipment
· Walking Aids, Walkers, Canes, Crutches
· Hospital Beds & Home Care Accessories
· Power Wheelchairs & Scooters
· Bathroom Aids
· Seat Lift Chairs
Seventh Street Medical Supply's provides onsite Certified fitters and educational explanations on all equipment.
Seventh Street Medical Supply is a certified participating Medicare provider and accepts Medicaid, as well as most private and major medical insurance plans. Claims are processed on behalf of patients to help minimize up-front and out-of-pocket expenses. Knowledgeable representatives assist patients with insurance requirements and the processing of paperwork to ensure patients receive their full benefits.
The specialized focus of working with physicians, educators and other healthcare professionals sets Seventh Street Medical Supply apart
from the rest.
Seventh Street Medical Supply will continue to enhance patient satisfaction and remain focused on offering only the highest quality products and services.
---