Should you live within our demographic service area we offer POC's through most all insurance carriers.
We also rent and sell to the public. Call us or stop in today! There are a million companies on the internet claiming they have the lowest prices…… But, "nobody beats our knowledge or service, PERIOD"..
Andy Scolnick, President of Seventh Street Medical Supply

AirSep Focus Portable Oxygen Concentrator 2 Liters Per Minute

"The new, hand-sized smallest oxygen concentrator in the world" The AirSep Focus is the new hand-size, lightweight portable oxygen concentrator made available in the USA. Andy Scolnick, President of Seventh Street Medical Supply says "The AirSep Focus is a game changer". If you are looking for the lightest 2 liter portable oxygen concentrator, look no further. The AirSep Focus Portable Oxygen concentrator overtakes its brother the AirSep FreeStyle as now being the lightest & smallest concentrator in the world weighing just 1.75lbs. The AirSep Focus has been designed with absolute portability in mind giving patients the extra freedom & independence. The AirSep Focus administers oxygen on a pulse flow to an equivalent of 2 Liters per minute continuous flow. This particular oxygen concentrator only has one setting and flow cannot be attenuated.

Technical Specification
Pulse Dose Delivery - 2 liters per minute only On-Demand system. Oxygen is delivered only upon inhalation via the use of a nasal cannula. Battery, Car & Mains Powered Mains Power (100-240v AC) & In Car (12-16v DC).
Rechargeable Internal battery & supplement battery Up to 6 hours battery life Up to 6 hours battery life combined with battery belt.
The Focus weighs 0.7 Kgs (1.5 Lbs). A battery belt is optional - 0.8kgs (1.8Lbs)
Airline Approved The Focus is approved for use on-board an aircraft subject to Airlines conditions.

---
IN STOCK! CALL US TODAY
Should you live within our demographic service area we offer POC's through most all insurance carriers.
We also rent and sell to the public. Call us or stop in today!

---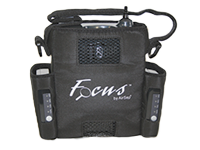 AirSep Focus Portable Oxygen Concentrator with 2 Batteries
AirSep Focus: Includes:
2 Batteries, AC/DC Power Supply, Battery Bag, Focus Carrying Bag, Carrying Bag with Battery Pockets, Shoulder Strap, Carry-all Bag, Battery Charging and Operation Cables, English Manual
Warranty: 3 Years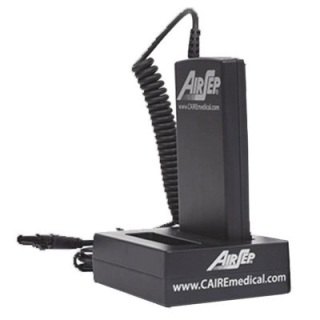 Airsep External POWER CARTRIDGE and CHARGER
The New External Power Cartridge and Charger Model BT026-1 is compatible with the Airsep Focus portable oxygen concentrator, the Freestyle portable oxygen concentrator, and the Freestyle 5 portable oxygen concentrator.
Model BT026-1includes a combination of:

(1) external power cartridge

Charging (dock) and power supply
**Note: Although this kit only contains (1) power cartridge, the charging base is capable of charging two cartridges at the same time. Additional Power Cartridges are available and sold separately. Please call 1-800-723-8110 for details.

Runtime of Freestyle Internal Battery + One External Power Cartridge
1 Liter - 10 Hours of ambulatory time before batteries need a recharge
2 Liters - 6 Hours of ambulatory time before batteries need a recharge
3 Liters - 5 Hours of ambulatory time before batteries need a recharge