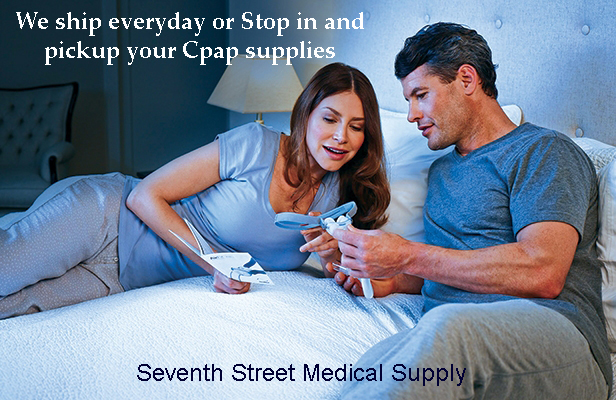 Most insurance companies will pay for a new complete mask every 6 months*MOST INSURANCE ALLOWABLE. *These are standard guidelines. Some insurances may vary.
Every month
Mask cushions and/or nasal pillows
CPAP machine FELT filters (Non-Disposable Foam Filter "1" Every Six Months)
Every 3 months
Mask frame (not including the headgear)
CPAP tubing
Every 6 months
Mask headgear
Chin strap (if applicable)
Humidifier water tub
Keep it clean
Cleaning your equipment as recommended is also key to ensuring that it works as well as possible for as long as you need it to last. Your mask's user guide will tell you exactly when and how to clean each part.
This form will initiate a CSR from Seventh Street Medical Supply to call on your behalf and help you to receive your new cpap supplies.
Reorder My CPAP Supplies
|
Protect Your Health
Routine replacement of your CPAP supplies helps prevent the spread of bacteria and viruses. Breathe easier knowing your CPAP mask, tubing, humidifier chamber and other supplies are clean and germ-free. Ensure you are receiving the greatest benefit from your therapy, and protect your health.
WE WILL NEED YOUR SMARTCARD TO VERIFY YOUR COMPLIANCE TO GET APPROVAL AUTHORIZATIONS WHEN BILLING INSURANCE
Seventh Street Medical Supply will ship your CPAP supplies directly to your home or you are always welcome to pick them up at our location. If you have never received any supplies from us in the past, just fill out your name, address, insurance and the best way to reach you and we will be in touch shortly.
YOU WILL BE CONTACTED WITHIN 24 HOURS AFTER SUBMITTING THIS RE-ORDER FORM