FLA Soft Form® Hernia Support Belt | Series 67-350 | Covered by Most Major Insurance Plans

Measure around hips
Removable foam compression pads give gentle, gradual pressure to help reduce inguinal hernias (single or double). Lightweight material with a plush elastic waistband and soft elastic perineal straps. Completely adjustable without the use of uncomfortable metal snaps or buckles; simple hook and loop closure allows you to control how tight the belt fits. Hides well under clothing. Color: Beige.
Series Sizes Fits Waist
67-350 Small 30 - 35"
67-350 Medium 35 - 41"
67-350 Large 41 - 46"
HCPCS Code:
L8300 / L8310
View SADMERC Letter
---
FLA Soft Form® Hernia Brief | Series 67-500 | Covered by Most Major Insurance Plans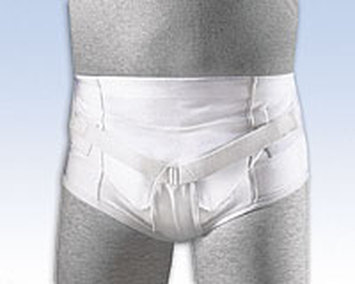 Measure around waist
Hernia pad pockets are sewn into the brief and eliminate the need to wear an undergarment and truss. Flexible foam cushions provide gentle, focused compression. Either pad can be removed to treat a single hernia. Hook and loop straps easily adjust for a comfortable, customized fit without bulk or binding. Low profile design with latex free polyester/spandex fabric and plush waistband. Color: White.
Series Sizes Fits Waist
67-500 Small 28 - 30"
67-500 Medium 32 - 34"
67-500 Large 36 - 38"
67-500 X-Large
40 - 42"
67-500 XX-Large 44 - 46"
HCPCS Code:
L8310
View SADMERC Letter
---