Enter Your Search Here
CLICK THE PICTURE BELOW TO
WATCH A QUICK VIDEO ABOUT SEVENTH STREET MEDICAL SUPPLY


Nobody knows the respiratory business like Seventh Street Medical Supply.. Don't waste time, head over there now!
---
---
---
Welcome to Seventh Street Medical Supply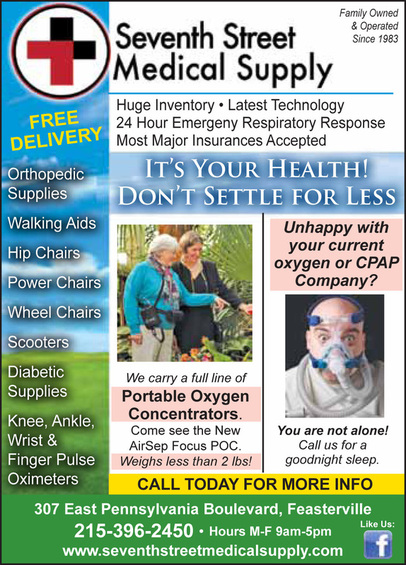 We have some of the highest quality medical equipment and respiratory supplies that you are going to find anywhere. Our goal is to provide you with enough information so you can make a knowledgeable decision with your next medical supply purchase.
Seventh Street Medical Supply, Inc., was established in 1983. Originally located in South Philadelphia. We are a family-run business that provides quality health care services in the Philadelphia, Bucks and Montgomery counties.
We have a Pennsylvania Licensed Orthotic Fitter on Staff.
We are accredited by the Joint Commission on Accreditation of Healthcare Organizations
(JCAHO)
.
We specialize in everything from orthopedic braces to a full line of respiratory products. We accept most major insurance plans. We are certified to accept Medicare, Medicaid, Blue Cross, Aetna, Bravo, United Healthcare, Personal Choice & Keystone Plans, including Keystone First. That's just a few! Call us to find out if we are providers with your insurance company.
We are a full fledged durable medical equipment company with a physical location that is opened to the public.
We are not an internet basement company with a PO Box address with an always on answering machine.
"I can't stress this enough, do not be Penny-wise and Dollar-foolish when it comes to purchasing medical equipment on the Internet".
Andy Scolnick, President
At Seventh Street Medical Supply, we pride ourselves on our superb customer satisfaction, and we have an outstanding rapport with all of our patients. Our patients are known by their names, not their ID numbers.
If you have a question or a concern with a product, our office is open to the public Monday thru Friday 9:00am-5:00pm.
We are conveniently located at 307 East Pennsylvania Boulevard in Feasterville. Behind K-Mart off of Street Road, in the "Feasterville Business Campus".
Please call for more information or for specific directions from your area..
---
---
| | | | | |
| --- | --- | --- | --- | --- |
| The Worlds Smallest 3lpm Portable Oxygen Concentrator! Only Weighs 4.9lbs. Many Models In Stock | We Carry a Full Line of Orthopedic Braces. Neck, Elbow, Wrist, Abdominal, Back, Knee & Ankle Braces. Cam Walkers, Tens & Muscle Stimulators | Before you look like this, call us today & learn how our professional staff can assist with all your respiratory needs | Seat Lift Chairs Made in USA. Always in Stock for Immediate Delivery | Full Line of Mobility Products. Scooters & Power Wheelchairs in Stock |
---
Seventh Street Medical Supply offers support at (215) 396-2450 during normal business hours, Monday thru Friday 9:00am - 5:00pm and email support at info@seventhstreetmedicalsupply.com 24-hours a day.

Please contact us if you have any questions about our services or the products we sell. Seventh Street Medical Supply is authorized to sell and ship products exclusively to end-users residing in the United States only.
A prescription is required for the purchase of certain products on this site including Cpap Masks, Provent and Respiratory Machines. All manufacturers' recommend that new patients purchase their devices, masks and initial accessories from a home-care company like Seventh Street Medical Supply that can provide an individualized patient equipment set-up, clinical and after-sale support, and a program to assist patients with therapy success.