Knee Walker | Covered By Most Major Insurance

MODERN OPTIONS TO CRUTCHES | RENT OR BUY

COVERED BY MOST MAJOR INSURANCE COMPANIES
Stop by our office and check out how EASY & COOL these steerable knee walkers are to use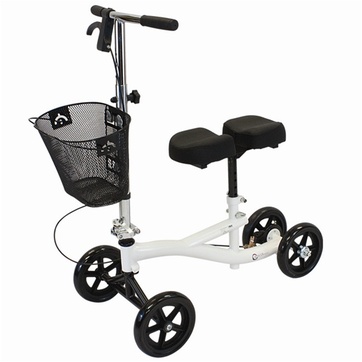 Purchase for $395.00
Description for the Knee Scooter with 8-Hole Stem White, Burgundy & Black. The Knee Scooter offers increased comfort and ease of mobility to patients who cannot put weight on their foot or ankle, but want to remain active. With its four large wheels and padded knee platform, the Knee Scooter is perfect for indoor and outdoor use. The offset post on the aluminum knee platform allows for right-to-left djustment in seconds - no tools required. The Knee Scooter is equipped with an easy folding mechanism that collapses using a thumb release lever and fits beneath the raised knee platform for ease of storage and transportation.
Features• Scooter can be steered for increased maneuverability
• Ideal for individuals recovering from an ankle or foot injury
• Large 8-inch clear PU wheels with sealed bearings
• Adjustable hand brake ensures safety
• Padded knee platform with easy-adjustment mechanism
• Padded handlebar grips
• Limited lifetime warranty on frame, 90 days on all other parts
• Knee Platform Measurements: 7" (W) x 14" (L)
• Frame Finish: powder-coated black, white or burgundy
• Adjustable Handle Height: 31" - 41"
• Knee Pad Height Adjustment: 17 ½" - 22"
• Product Weight: 22.8 lb.
• Weight Capacity: 350 lb.
---
Check out our Steerable Knee Walkers With A 350lb. Weight Capacity | All Colors in Stock!

---
---
---
No Insurance? Rent As Little As $75.00 Per Month or
$25.00 Per Week *Additional Cost for Delivery & Pickup
---
Depending on your insurance, you may be covered 100%. Knee Walkers like all medical equipment are not created equal. Unfortunately, when we submit a bill for a knee walker to an insurance carrier for payment we must use the same billing code regardless of any additional features our unit may have. Insurance companies pay for the basics and do not recognize additional convenience or luxury items. For that reason, sometimes although we are a provider for a particular insurance company and accept payment on most all medical equipment, there are times where we do not accept assignment on an item. Call us with your insurance information and we will be happy to check your medical benefits for you.

Below is a prime example of two knee walkers with the same billing code but clearly they are not created equal..

---
Throw away those ugly uncomfortable crutches and get your Knee Walker today!