Oxymizer P-224 Pennant Style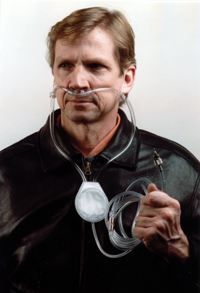 The Oxymizer is the simplest conserving device available today, operating without electronics, batteries, switches or flow controls. Learn how this disposable product can help you save time and money, meet your clinical needs.

The Oxymizer Pendant Disposable Oxygen Conserving Device. Used in routine nasal administration of supplemental oxygen. Contains an oxygen conserving reservoir in pendant which lies on patient's chest and offers a diaphragm which immediately collapse on initial inspiration and close-coupled reservoir that fills with 20ml of expired air.

Compatible with a wide variety of oxygen sources, including compressed gas, concentrators and liquid oxygen. Accommodates the oxygen delivery requirements of a broad range of patients.
Proven efficacy for use at rest, during sleep and during exercise. Ensures proper saturation in a wide variety of settings.
Can achieve the equivalent of a 7.5lpm setting at 5lpm. Accommodates the needs of high liter flow patients.
Pendant model can be used with pursed-lip breathing at all flows.
Offers improved oxygen saturation's and increased conservation.