Provent Sleep Apnea Therapy
A PROVEN ALTERNATIVE TO CPAP
Provent Therapy is an alternative, FDA Approved treatment for Obstructive Sleep Apnea (OSA) and related snoring -- that DOES NOT require a machine, mask or medications. Provent is clinically proven to be effective for the treatment of mild, moderate, and severe OSA and related snoring, and can restore the energy that comes with a good night's sleep.
ABOUT PROVENT THERAPY
Are you looking for an alternative to CPAP therapy, having trouble staying compliant, or not currently treating your OSA at all? If so then simple, disposable, convenient PROVENT THERAPY may be your dream come true! Seventh Street Medical Supply is extremely happy to support Provent!
Provent Therapy is a disposable, nightly-use nasal device placed just inside the nostrils and held securely in place with hypoallergenic adhesive. Provent is FDA Approved and only available with a prescription. Prescriptions must state "Provent" or "Provent Therapy."
A standard CPAP/BiPAP prescription is not valid for the purchase of Provent.
Provent Therapy uses a proprietary MicroValve design that creates pressure when you exhale to keep your airway open. It is small and disposable, making it discreet and very convenient. If you're looking for an alternative to CPAP -- for daily use or as an alternative when you're away from home -- ask your doctor if Provent Therapy could help get you back on treatment.
Provent is Easy to Use
Provent is FDA Cleared
Provent is Clinically Proven
Provent is Effective for Mild, Moderate and Severe OSA
Provent is Portable and Ideal for Travel
PROVENT IN THE NEWSHOW PROVENT THERAPY WORKS
Provent Therapy works much like CPAP therapy, except instead of an external machine, your own breathing creates the pressure that keeps your airway open.
The Provent Nasal Device fits over both nostrils and uses a proprietary MicroValve design that creates pressure which keeps the airway open. As you inhale, airflow is nearly unobstructed, allowing for normal breathing. As you exhale, the MicroValve closes, directing air through small air channels, increasing resistance. This resistance creates EPAP (Expiratory Positive Airway Pressure), which props open the airway until you inhale again.
Like CPAP, Provent nasal devices need to be worn every night to effectively relieve symptoms of OSA. It may take time before you start to feel like you're sleeping normally and waking up refreshed.
For many patients, the Provent Device is an effective treatment for OSA while allowing them more freedom to travel, enjoy their sleep partner, and live their lives. Provent devices are small enough to slip into a purse or pocket, making Provent Therapy ideal for travel. Provent Therapy does not require a machine or make noise, allowing you and your partner to sleep better together. And Provent devices do not require electricity, giving you the freedom to sleep anywhere. Provent Therapy is simple, comfortable, and maintenance-free; you use a fresh set of devices every night and simply throw away the used set each morning.
GETTING STARTED WITH PROVENT THERAPY
Provent Therapy is clinically proven to treat obstructive sleep apnea (OSA) and reduce OSA-related snoring and daytime sleepiness. Though it seems simple, there are a few things to know. The instructional video below will walk you through how to apply the Provent Device correctly and provide you tips to adjust to wearing it. Similar to other medical therapies, Provent Therapy requires some period of adjustment. Some people get used to it right away, while others need time and help. But patients agree—its worth it.
It may feel uncomfortable at first or you may hear vibration when you talk. You will feel resistance to breathing out through your nose. This is normal and is how Provent Therapy works. We suggest you put Provent on right before you plan on falling asleep. Incorporate it into your routine. Use the entire box—many patients need a week or more to get used to sleeping with the device in place. So give it time.
---
Provent is Always in Stock at Seventh Street Medical Supply


-

Rx is Required -

Doctors Rx can be faxed to (215) 396-2454 or emailed to info@seventhstreetmedicalsupply.com If your Rx is already on file with us, just let us know in your notes with payment.
PROVENT® SLEEP APNEA THERAPY - STARTER KIT (30-NIGHT STARTER KIT)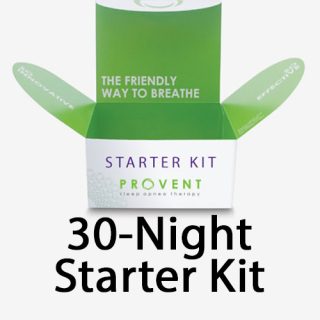 Each

30-Day Provent Therapy Starter Kit
includes three phases of Provent Therapy. Phase 1 of the Kit includes two nights of low resistance, non-therapeutic Provent patches. Phase 2 includes two nights of medium resistance, non-therapeutic Provent patches. And finally Phase 3 which includes 26 nights of normal resistance Provent Therapy patches. The Starter Kit's convenient 3-phase approach allows you to adapt to breathing with Provent Therapy at your own pace, ensuring successful, and convenient sleep therapy.
The 30 Night Starter Kit is designed to help you get used to Provent, by increasing therapy resistance, over several nights to create a gradual transition to successful EPAP therapy. Studies show that patients who begin therapy with the Starter Kit are more successful and comfortable with Provent in the long term.
---
PROVENT IN THE NEWS