Carpel Tunnel Wrist Supports | Covered by Most Major Insurances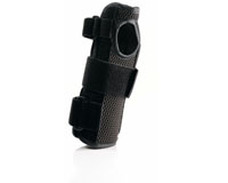 ProLite® Airflow 8" Wrist Brace
Ideal for the treatment of carpal tunnel syndrome, tendonitis, moderat to severe sprains and strains, after cast removal and arthritis. Stabilizes the wrist to help alleviate pain and speed healing. Rigid palmar stay holds the wrist in neutral position. Comfortable and breathable mesh material promotes airflow for increased comfort. Two dorsal stays add stability. Allows for full finger dexterity. Adjustable hook and loop straps. Comes in right or left. Color: Black.
---
---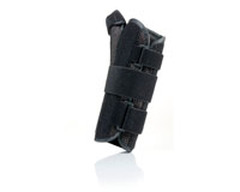 ProLite® Airflow 8" Wrist Brace with Abducted Thumb
Recommended when immobilization of the wrist and/or thumb is needed. Breathable mesh material promotes airflow and wicks moisture away from the skin for increased comfort. Medial thumb stay provides immobilization and thumb abduction. Metal palmar and plastic dorsal stays prevent flexion and extension. Three adjustable straps for increased stability. Tubular construction allows for quick and easy one-handed application. Ideal for post-surgical treatment of wrist and thumb injuries, especially for the treatment of Basal Joint Arthritis, DeQuervain's Tenosynovitis, tendonitis, accumulative trauma disorders of the thumb and wrist, strains/sprains of the thumb joint (MCP), advanced Carpal Tunnel Syndrome, and after cast removal. Comes in right or left. Color: Black.
---
---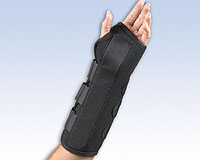 C3™ Deluxe Universal Wrist and Forearm Brace, 10"
Unique design fits a wide range of sizes. Dorsal stay can be removed for less rigid support. Made of soft foam with a wide palmar and movable dorsal stays. Loop lock closures ensure proper fit and easy application. Latex free, unique breathable Tri-Permalon™ material. Eight inches in length. Fits right or left. Color: Black.
---
---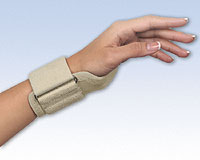 CarpalMate® Wrist Support
Holds the wrist in a lifted, neutral position while still allowing full finger movement. Motions are controlled, preventing excess flexion of the wrist and flexor tendons to relieve and prevent Carpal Tunnel Syndrome. For both therapeutic and preventative use. Features an inner foam padded liner to absorb moisture; adjustable wrist strap. Fits right or left. WorkAbout® brand. Colors: Beige or Black. Model #
22-140
---
---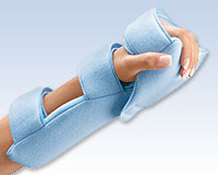 HealWell® Grip Splint WHFO
The HealWell® Grip Splint WHFO (Wrist Hand Finger Orthosis) is useful in treating mild to moderate non-fixed contractures of the hand, wrist and fingers. Designed to maintain a neutral wrist position, the splint keeps the hand open, preventing finger flexion and damage to the palmar skin. The durable plastic base stabilizes the wrist and retains its shape even after continuous, extended use. A soft foam cover gives comfortable padding, and the inner fabric wicks moisture away from the skin to preserve skin integrity. Includes two palmar rolls (1-1/2" and 1 3/4") to accommodate various levels of finger contracture or hand sizes and/or offer progressive extension of the fingers. Adjustable padded straps. The one-piece, removable cover is washable and easy to apply. Laundry bag included. Universal size fits right or left. Color: Blue.
---
---