Bed Wedges
Contour Folding Bed Wedge $49.95
Comes with a soft removable velour cover. Sleep comfortably elevated, help aid digestion and ease breathing and sinus pressure.
Overall Dimensions:
7″ High x 24″ Wide x 24″ Long
10″ High x 24″ Wide x 24" Long
12″ High x 24″ Wide x 24″ Long



---
---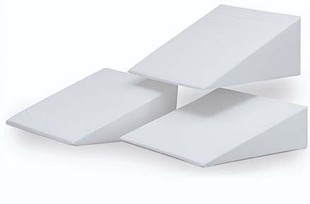 Bed Wedge | Any Size $43.95
Our versatile bed wedge can be used as a back support wedge or a leg elevator wedge. The bed wedge reduces neck and back strain while increasing circulation. Great for reading or watching television. It is constructed with a high density polyurethane foam core, and is covered with a poly/cotton cover.
3 Sizes Available - 24" x 26" x 7.5" / 24" x 26" x 10" / 24" x 26" x 12"


---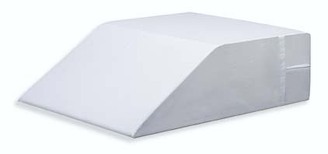 Ortho Leg Elevator Wedge | $45.00
When legs are elevated, this wedge flattens the
spine to help relax and ease back pain.
Increased circulation and reduced pressure
on discs are an excellent therapy for low
back pain. It is constructed using a high density
polyurethane foam, and is covered with a poly/cotton cover. Wedge - 20" x 26" x 7.5"

---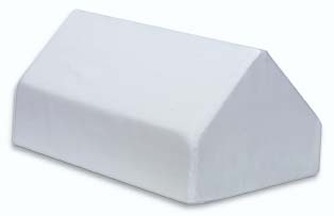 Knee Elevator Wedge | $29.95
This wedge reduces stress on the spine, by taking pressure off the legs and back. The inner core is a high density polyurethane foam and is covered in a white poly/cotton
Knee elevator Wedge - 17"L x 10"H x 8"W


---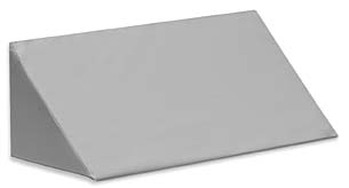 Body Aligner Wedge
Provides firm body support that prevents patients from rolling out of bed. It helps to maintain a patient's position while reducing pressure in sensitive areas. Excellent aid for patients who lay on their sides. Cover available in a white poly/cotton, medical grade vinyl or without a cover.
Body Aligner Wedge - 23" x 8" x 9.5"


---
---
---

| | |
| --- | --- |
| | The Donut Seat Cushion with a Coccyx Cutout Comfort sore and sensitive areas with this innovative new seat cushion! The Kabooti foam seat cushion provides a complete solution to seating by combining the best features and benefits of a ring shaped donut cushion, coccyx cushion and a traditional seating wedge. The innovative design is completely re-invented ergonomic design you won't find anywhere else. Whether you need a donut cushion or a coccyx cushion for medical reasons or improved comfort, or a superior seat cushion which can provide all-day comfort, this is a great choice. |
---
Invalid Rings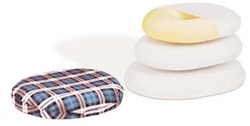 Invalid Rings | $24.95 - 18" Large
Helps to redistribute pressure. Ideal for patients recuperating from hemorrhoidal surgery. The invalid ring is fabricated using a molded foam with open center. Available in white or plaid poly/cotton.
Invalid Ring 18"
---
---
---
Coccyx Seat Cushions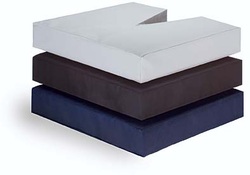 Coccyx Seat Cushion | $32.95
The coccyx cutout redistributes pressure at the sacral area while offering patient comfort and even distribution of weight throughout the cushion. Medium density fire-
retardant foam is covered in a poly/cotton, in black, gray medical grade vinyl.
SUPPORTS 250 lbs.
16"x16" & 18" x 16"


---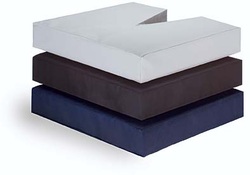 Commander "Gel" Coccyx Seat Cushion | $63.00
Our segmented gel bladder contains an aqueous, highly viscous gel. The bladder is surrounded by a high density foam shell that is covered using a fluid-proof, low shear nylon top with a medical grade vinyl bottom. All cover materials and foam are fire-retardant and anti-microbial. Several sizes available.
SUPPORTS 250 lbs.

---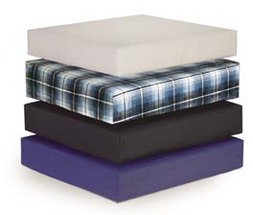 Foam Wheelchair Cushion | Many Sizes Available| Starting $35.00
Designed to provide comfort and basic protection for the wheelchair bound patient. Ideal for institutional use. This cushion is available with a poly/cotton cover or incontinent medical grade vinyl cover. A medium density fire-retardant foam is used for this cushion. An optional solid seat insert is available.
SUPPORTS 250 lbs.
Color: Black • Navy • Plaid • Gray
Thickness: 3" Poly/Cotton • Medical Grade Vinyl


---
---
Cervical Pillows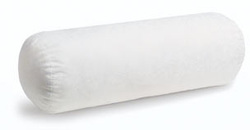 "Jackson" Type Cervical Round Pillow
This plush filled hypo-allergenic, high-lofted polyester fiber filled pillow maintains proper neck posture and aligns the vertebrae restoring a stress-free, normal neck contour. The pillow is covered with a zippered white on white print poly/cotton cover.
17"w x 6 "h


---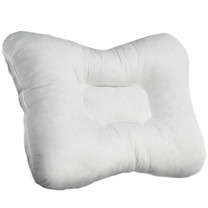 Rose Healthcare Comfort Cervical Plus Pillow | $29.95
Comfort plus pillow promotes proper spinal alignment by cradling your head and providing proper neck support, as well as side support. Specially designed with polyester filling and white/polycotton cover.
Material: Polyester | Cover material: Poly/cotton
Specially configured to cradle your head
Provide proper neck and side support
Good for sleeping on your back or side
Made in the USA | Dimensions: 9" H x 23" W x 19" D

---
ARC Plus® CPAP Pillow | $44.95
The unique shape of this pillow promotes proper neck and spinal alignment, especially when using a CPAP or BI-PAP device. The pillow can be used to sleep comfortably on your side, back or stomach. The mask and hose can move freely with the patient due to the ARC cutout in the pillow. The pillow is filled with a hypo-allergenic, high-lofted, polyester fiber and covered in a white on white poly/cotton cover. An additional cover is included. 20"w x 26 "h

---
---
Lumbar Cushion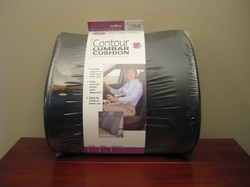 Lumbar Cushions | $24.95
The ultimate in soothing lumbar support. Our quality molded foam provides support directly to the lumbar region helping you to relax and feel instant relief. The deluxe cushion is covered in velour, Color: Black. Poly/cotton cover.
14"w x 14"h

---
---
Wheelchair Cushions & Back Supports
Covered by Most Major Insurances

Postura® GelCell™ Contour Cushions
A high resilience, molded and contoured foam base contains an anatomically positioned soft gel insert in the ischial relief area. The viscoelastic gel insert provides maximum pressure relief under the ischial tuberosities and coccyx. A top layer of viscoelastic foam as well as the leg troughs and medial and lateral thigh supports provide excellent conformity to the body's contours. Fluid-proof stretch cover is 90% Nylon and 10% Spandex with a non-slip bottom. Removable cover is wipeable and washable. Sold by the case pack ONLY. Each cushion is individually packaged in a vinyl bag with full-color graphics. Color: Black. HCPCS Code: E2607
Series C3410PK (16" x 16" x 4") | Series C3450PK (18" x 16" x 4") | Series C3480PK (20" x 18" x 4")


---
Postura® GelFoam™ Cushions with Viscoelastic Foam Top
Provides superior skin protection and pressure relief with a continuous viscoelastic gel middle layer between layers of dual firmness foam. Viscoelastic foam top. Cover is treated 100% Polyester with a fluid-proof film. Non-slip bottom. Each cushion is individually packaged in a zippered vinyl bag with full-color graphics. Color: Black.
HCPCS Code: E2603
Series C2335PK (16" x 16" x 3.5") | Series C2355PK (18" x 16" x 3.5") | Series C2375PK (20" x 16" x 3.5")

---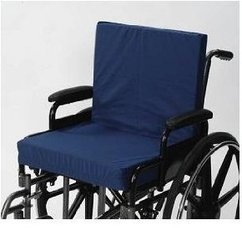 Solid Seat & Back | A Must for Every Wheelchair | All Sizes Available
Solid seats and backs are used to properly align the body as well as to eliminate the sagging effect found in standard sling seat wheelchair upholstery. Safety straps secure the solid back to the wheelchair. The cushion uses medium density foam and is covered using waterproof black cover. SUPPORTS 250 lbs.

---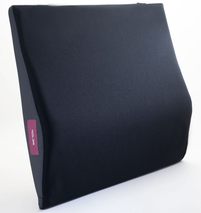 Supra Visco Back Cushion | Covered by Insurance | Available in many sizes
The Kölbs Supra Visco is a general use back cushion designed to help improve the comfort of those confined to a wheelchair. At the core of the Kölbs Supra Visco is high quality sculpted foam, contoured to conform to the user's spinal curvature
Features:
Helps improves seating posture | Ultra-plush memory foam lumbar support
Non-slip back helps insure proper cushion placement
Available in 16", 18", 20", 22", and 24" widths
---
---