Casttoos Are Here!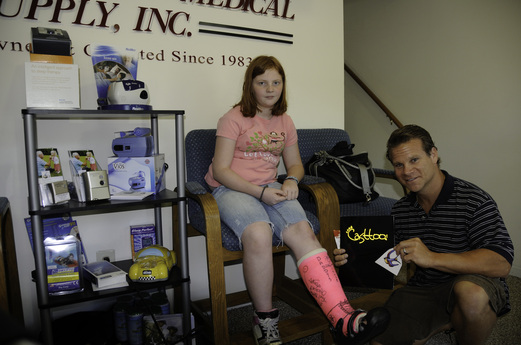 What is a Casttoo?
A New Approach to the Healing Process - Casttoo is an innovative new product that was created to supply "Happy Healing" for patients required to wear a cast as part of their physical curative process. With different sizes to accommodate all cast types, and an unending array of images, designs, and themes there is truly a Casttoo for everyone. Seventh Street Medical Supply is proud to be a distributor. The Power of Positive Energy is something that is becoming more and more prominent and recognized in the medical field as having a dramatic and incredible affect on the body. It is this principle that has forever been the driving force behind Casttoo's creation and motto, "Happy Healing.

Simple, it's an "Orthopedic Cast Tattoo," "Cast Art," "A Skin for your Cast,"
"Beauty for Breaks," "Cast Decorations," but in short, it's a "Casttoo!"

Casttoo products are the most innovative, fun thing to hit the field of Orthopedic Medicine since the introduction of Colorful Casting Tape. Our designs transform drab fiberglass or plaster into the most unique & creative casts around!

Casttoo makes it fun and easy for anyone to put a little more joy into the downtime experienced following a bone break or surgery. Casttoos are for everyone, are easily applied with the help of heat and are actually helping people enjoy the healing process.
---
SMALL $15.00 - Small sizes work for young children's wrist casts and just to add flare and attitude to any size cast individual.
MEDIUM $20.00 - Medium sizes are idea for wrist casts, children's leg casts and smaller size full arm casts.
LARGE $25.00 - Large sizes are ideal for half leg casts, adult arm casts and more complete image coverage.
EXTRA LARGE $30.00 - Extra large sizes are meant for full image coverage of adult half legs, full arms or for larger size individuals.

All Casttoos are shipped Priority Mail with the USPS (2-4 Business Day Delivery Time Within the US) Only $5.00 for shipping or stop in and we will Casttoo for you.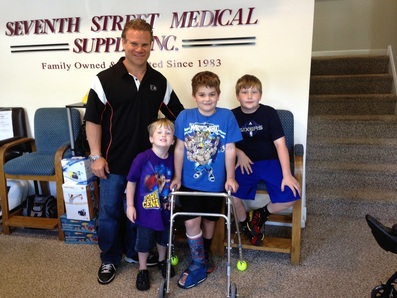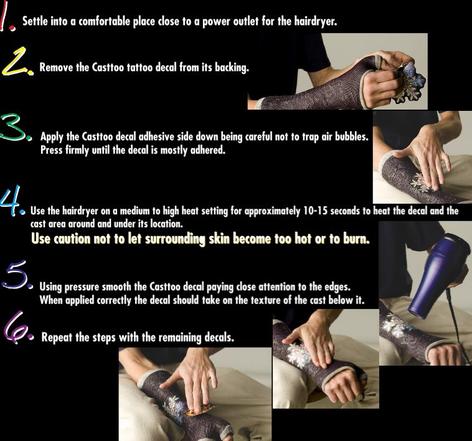 CHECK OUT JUST SOME OF THE CASTTOOS THAT ARE AVAILABLE
STOP IN TODAY TO SEE ALL THE CASTTOOS
---
Jace, from Hoffman Estates, IL
Super Cool.. We Love our Hockey Casttoos
---